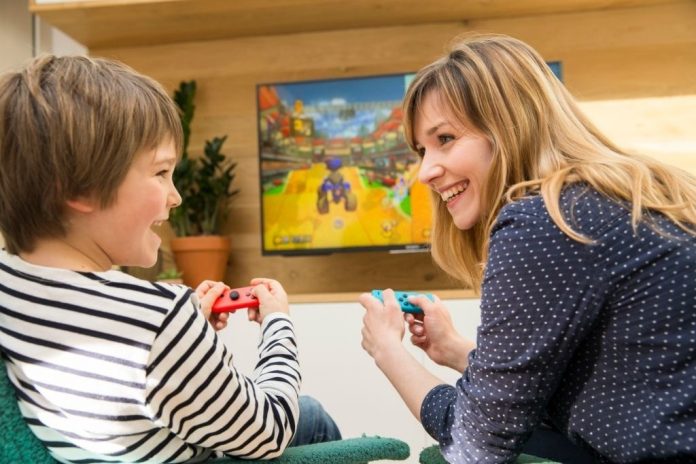 There was a time when teaching and learning were limited to whiteboards and classrooms. Now, with the rise of gaming and the improvement in game development, parents and teachers alike are seeking the help of interactive games to aid the learning process in children.
Having said that, there must be a balance between online games and physical games. Physical health is as important as mantel health, and trampolines offer the best physical exercise you can get. Guides on TrampolineMag offers you complete assistance on jumping and rebounding on trampolines.
Why is This Method So Effective?
According to research done by NPD, 91 percent of children between the age of 2 and 17 in the US are gamers. Another study revealed that children tend to play games for an average of 15 hours a week.
Considering that gaming is already an attraction for little ones, it comes as no surprise that games are now being used as a medium to impart knowledge among children. Gamifying the learning ensures that kids are entertained while they are being taught new things.
With the increasing use of games as a source of learning, interactive educational games have become available on several online platforms. All these games are aimed at making learning more fun for kids.
Here are some of the best online platforms that feature games to help boost intelligence and learning in kids:
#1. BrainPOP
When it comes to educational games for kids, BrainPOP offers one of the most visually arresting experiences available online. This platform is made for children who are quick learners and hence find other platforms not challenging enough.
The paid subscription site is rich in content and videos. It covers all major subjects through a mixture of animated videos, games, and written content. Rather than solely focusing on basic topics, the site takes it up a notch by addressing topics like war, alcoholism, and reproduction.
The games included in the platform are very creative and unique. For instance, a game called Judicial Court allows children to argue court cases as if they are in a Supreme Court. Hence, it provides them with an interactive way to learn how the world of law works.
The content is not meant for young kids and instead are targeted at children in grade four and above.
#2. MiniMe
AirG MiniMe is a subscription-based online platform that offers educational videos and kid-friendly games. These games are made to improve learning and horn the skills of children.
Some of the popular games on the platform include Count Faster, Connect the Dots, Worlds of Words, Basketball Master. Their simple gameplay makes it easier for kids to complete the games in no time.
Similarly, options are available that make learning languages fun. Kids who speak Russian, Spanish, and Arabic can learn English through fun and interactive games.
These games are proven to improve the cognitive abilities of kids. For instance, Arty Mouse – Learn ABC makes use of animated visuals to ensure better attention as well as retention of the lesson among kids.
The same objective of ensuring learning among kids is also guaranteed by the videos the platform offers. Rather than merely showing cartoons to your kids, MiniMe offers mini video-series which help children in understanding the world around them.
One of the best things about MiniMe is that it offers content on the go. As long as you have sound internet connectivity, your children can easily benefit from the platform on mobile devices.
#3. ABC Mouse
ABCmouse.com is an education initiative of Age of Learning, Inc. It is a very popular online learning website and has received awards for being an effective learning academy.
It is a subscription-based service platform that offers a comprehensive curriculum for boosting learning in children. It is designed for kids between the age of 2 and 8 and includes a wide variety of subjects ranging from science to art.
There are over 850 lessons on the platform and over 9000 learning activities, which are divided into ten levels to ensure that it doesn't become overwhelming for kids.
The good thing about ABC Mouse is that every learning activity and exercise has been designed after consultation with experts. Since the platform is divided subject, and topic-wise, this allows children to solely focus on things that interest them or the subjects they need help in.
#4. Starfall
Cultivating a habit of reading is essential for the growth of children. A University of California study revealed that children are exposed to 50 percent more words via books, compared to TV and other media.
Starfall is an online platform that was initially made to help children read. The resource was launched in 2002 by Dr. Stephen Schutz, who struggled with dyslexia and wanted to help teachers and parents in teaching their children to read. Since its creation, the platform has expanded to include maths and other arts subjects.
Starfall makes use of an interactive interface and exploration technique to expose children with educational content. Whether it be multisensory games or talking libraries, the platform has it all. The target audience for Starfall is pre-K until grade 3 students.
#5. PBSKids
If you reside in the US, the chances are that you are aware of PBS. Public Broadcasting Service or PBS is a television program and public broadcaster in America. PBSKids covers a variety of cartoon series that are produced under the PBS banner.
The company also has a game-based learning website by the name of PBSKids. This website uses characters from its cartoons to offer educational as well as entertainment content to its users.
PBSKids offers students the ability to create their avatar when exploring the platform to make it a fun experience for children. It also allows parents to analyze the games that are being developed to incorporate their feedback in real-time.
Ending Remarks: Learning can be Fun
Children don't like being asked to sit down and study. Thankfully, we live in a world where we don't have to bind them to books and classes to ensure that they learn effectively. Instead, we have various online resources to make learning fun.
Each of the five online platforms of interactive games discussed above succeeds in making learning and education fun. Try each of them out to provide variety to your kids. It will ensure that they don't get bored when asked to study.
Watch as your little ones learn and explore new concepts. Do let us know if the platforms helped.
Author Bio                       

Andrea Bell is a blogger by choice. She loves to discover the world around her. She likes to share her discoveries, experiences, and express herself through her blogs. You can find her on Twitter:@IM_AndreaBell